18.12.2017
If you consider yourself a fan of the old-fashioned romantic relationship, a typical Aquarius female won't make the right match for you. What do we know about Aquarius women? They are energetic, charismatic and highly intelligent. They go against all traditional beliefs and create their own destiny. They don't really bother about what anybody else says or does since they dance to their own tune. Aquarius girl's personality is a true paradox. Trying to unravel all mysteries about these women is like trying to catch the wind. Her life is often full of inconsistency and confusion. This type of woman usually comes in two forms - timid, sensitive and subtle or rebellious, spirited and a bit exhibitionist. In any case, if you're trying or still planning to date a female born under this Zodiac sign, you should definitely go ahead and read some insights on how to attract Aquarius women. Get some utterly useful dating tips to build that perfect relationship with the Aquarius girl.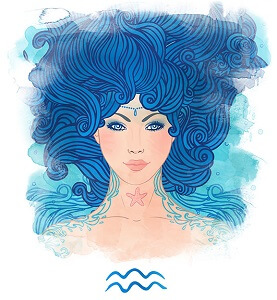 What you need to know about Aquarius women
Aquarius women characteristics are better described by a number of extreme activities she's always ready to test herself in - from skydiving and bungee jumping to having sex in a public place. Her inborn need to break all existing rules may sometimes be uncontrollable, not just because she is "out of her mind" but actually because she doesn't really want to be in it. Her soul of a rebel sometimes might not be this difficult to cope with, but in fact, her inner voice will constantly push her in the direction of the craziest activities you can ever think of.
This is exactly why she doesn't wish to go on the same type of date three times in a row, especially to a quiet family restaurant to eat Italian pasta and drink wine. Instead, she wants something spicy as hell, somewhere to go, whatever place it can be - a club, karaoke or a huge open-air concert. She prefers those dates that will keep her on the edge of her seat and last all night long. She needs something new to experience every time, all sorts of changes, excitement, and she won't settle for less if there's still something more left to take.
1. The Aquarius woman marches to the beat of her own drum
The Aquarius girl puts her personal freedom above anything else. Aquarius is a fixed Zodiac sign which dictates her to live life by her own rules and oftentimes avoid being told what to do. Do not expect this kind of woman to go with the crowd. She will be always singing a different song. This usually makes her find herself in the creative fields of activity. She can escape anything that would narrow her freedom.
2. The Aquarius woman is a real rock star
The Aquarius is able to put on a show no one else will. That feature makes such girl the most charming and magnetic Zodiac sign. This is why the Aquarius girls requires tons of attention and makes dozens and dozens of friends. Her untied spirit and loose nature encourage her to the maddest things in life. The Aquarius female will also make friends with people of all social layers and statuses - she tends to literally find common grounds with nearly everybody.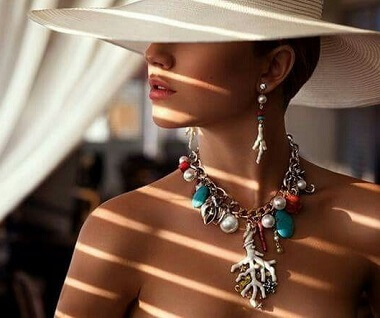 3. The Aquarius woman may drop out of reality
Precisely because she gets stuck in her own thoughts and is always thinking about a thousand different matters at once. Thus, Aquarius woman can easily shut in her world and isolate herself from everyone else when depression kicks in. It makes this girl appear a moody and cold personality, but the truth is she simply needs a break from the outer world from time to time. Those women are very sensitive but they tend to hold their emotions on a leash all the time. Aquarius women can easily become upset over things from the past, the present and the future respectively and dwell on those, which might make it hard for people to get to know them closer.
4. The Aquarius woman is an unsolved mystery
In case if you haven't already digested the facts given above. What are Aquarius women like? Apart from being "explosive", dynamic and sometimes vulnerable? The Aquarius women tend to lean over backwards really often. They can be both loving and indifferent. Warm-hearted and as cold as steel. Need their private space but love being around people. Madly rebellious, but loyal. The Aquarius girl is always a puzzle, sometimes to her own.
Dating an Aquarius woman: useful advice
If a woman of this sign falls in love, be sure - she will be devoted to her feelings as long as she feels absolutely free and unrestricted. However, in almost every Aquarius female's life comes that period of "growing up" and realization of a certain amount of love has to be enough for her to have a family, raise beautiful children and live a stable and happy life with her man. Next are 5 essential things to consider when dating Aquarius women.
1. Address to her inner curiosity
Nothing can impress the Aquarius lady more than creativity, so the most important tip on how to seduce this type of girl is to demonstrate that you can be original and prove you are not a 10th sheep in the herd. It will be a good idea to dress nicely for a date with an Aquarius woman, but she will definitely find you a whole lot more handsome and cute if you create your unique individual look rather than just put on a suit and a tie. If there are some unusually interesting details about your background, workplace or lifestyle in general, do not be afraid to tell it out loud and clear - it will make this woman much more willing to get to know everything about you.
2. Conquer her friendship first
Try to approach a girl of this sign first on a friendship level and soon you will improve your chances of taking over her heart. Aquarians, especially women, are excellent and bright individuals, easily making friends with people of all kinds. Concerning Aquarius women in relationships, they are, however, a lot less comfortable and more careful in close romantic relations, which they sometimes find a bit restraining and may be notoriously stubborn for a commitment.
Most romances with women born under this Zodiac sign appear to originate exactly in the form of a friendship, and after that gradually evolve into something deeper. You can be 100% sure - Aquarian will rarely enter a serious relationship with a guy who hasn't become a good friend yet. Do not attempt to make things difficult for yourself by trying to drag her into bed too soon. Play it cool, but careful, show patience and keep things easy until you are totally ready to make a bigger move.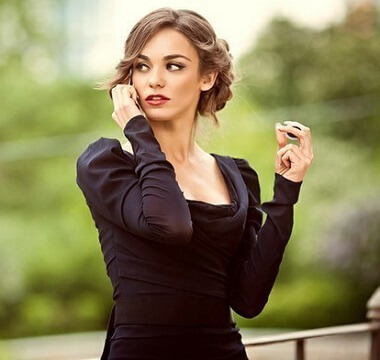 3. Give her freedom. A LOT!
The most fatal mistake you could ever make when trying to get the attention of the Aquarius lady is to pose a threat to the precious freedom of hers by being too pushy and impatient. Keep in mind the following: Aquarian women answer to no one but themselves and won't be tolerating any sort of control from outside. As a matter of fact, the more you rush to pin an Aquarius female down, the more likely she's to make an opposition to your actions.
4. Act calmly and wisely
In order to win sympathy of the Aquarius female, prove her you are a cool kid, completely calm and undistracted type. Both logical and reserved by nature, these women would normally feel inconvenient around people who publicly express their feelings, so if you are ignited really easily or type of a person wearing your heart on your sleeve, you'd better proceed really carefully with your actions. If you're wondering what signs are compatible with Aquarius women – those are: Gemini, Virgo, Sagittarius, and Pisces.
5. Keep her surprised
Regarding Aquarius women in love, a truly outstanding strategy for seducing the Aquarius lady is to surprise her all the way. Women of this sign demand constant stimulation in the relationship to turn them away from growing bored. When the spark of a romantic adventure goes out, an Aquarius lady might begin looking somewhere else for a lack of excitement. To keep such girl curious, avoid revealing all facts about yourself in one go. Instead, make her guess and allow her discover new sides of your personality she was not aware of step by step.
Aquarius women in sex
Talking about Aquarius women and sex, these females are all into experiments and are widely known for their love for the unconventional. Speaking of the Aquarius women in bed, they are particularly adventurous and always love to try something new (in the backseat of your car, in the elevator and so on).
Try to keep both her mind and body turned on equally by notifying her about what you desire to try out next time you have sex. So, there's absolutely no doubt Aquarius women love sex. Moreover, strong and firm touches do capture her attention more than soft, cradling ones. If she wishes to demonstrate her sexuality in a particular way, she will most likely do no matter what you might think of it and not always in a subtle way.
If you adore freedom-loving souls, engaging in a relationship with an Aquarius girl is guaranteed to bring you a mass of joy. These beauties love having a really good time. They appreciate even the smallest things in life. Aquarius females are pretty down-to-earth, they absolutely hate arrogant and manipulative people. Use all of your charms to capture and maintain her attention. With such fun-loving and intellectually advanced life companion, you will find the world a much more amazing place to live in and love.