04.09.2016
Our world is changing rapidly, and new things come to our life on a daily basis. Contemporary people tend to search for love online so international families have become quite regular. The growing number of men from the EU and the USA struggle to meet Ukrainian brides for marriage. Let's assume you've already met a girl of your dream and are going to visit her. Of course, you wish to impress her from the very beginning. Apart from your personal merits, wits, and manners, there is something else you may present – a gift. But what exactly to give at the first date? Keep reading to find out.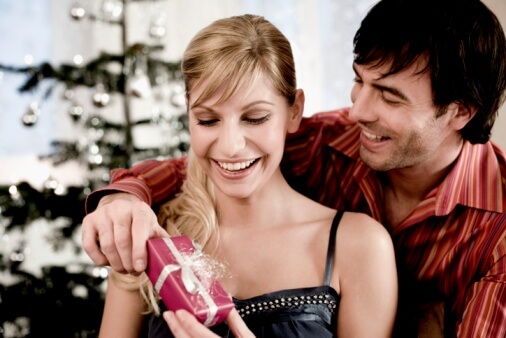 1. Bouquet of flowers
This is actually the most common present in Ukraine. Here, people bring flowers for various occasions including dates. When a woman sees her partner with a bouquet of flowers, she instantly guesses about his special attitude to her. Now, the question is what sort of flowers should you buy? Better if you pick what she loves the most. Yet if you have no idea, we would recommend you buying roses (especially of red colour) that symbolize romance and affection. Keep in mind the number of flowers must be odd, say, 7 or 9. There's no need to bring a large bouquet for the very first meeting.
2. Delights
Most women like sweets. Naturally, any of them has her specific preferences. In the Eastern Slavic community, they even call the earliest stage of a romance "time for bouquets and sweets". It's assumed a man should treat his girlfriend with lovely flowers and delights. That's why it's totally okay to present both things at your first date. Chocolate is the all-time classic. Buy a fine set produced in your country and bring it to Ukraine – she will definitely be glad to taste it. Again, you'd better find out what sort of chocolate she likes. Giving to her some delights traditional in your culture is also a good idea.
3. Perfume
Ukrainian ladies are known for their stunning looks and perfect taste. They spend quite a lot of time by the mirror, especially, when they are going to a special event. Perfumes are essential to creating a stunning image, and many girls adore them. If you want to fascinate your lady, remember every girl favors particular aromas and brands. Your gift must match her tastes. Don't hesitate to ask her about what she would like to get. Of course, you can't buy something cheap, fake, and random – this would be a huge disrespect.
4. Jewelry
This is kind of a luxurious gift so you must be careful with what you give and in what way. You see, some ladies may get confused if you present them too expensive and ritzy stuff. That's why we recommend you starting with something not overly posh yet sophisticated. Another problem how is to make the right choice. This must be a purchase she is quarantined to adore. Don't pick jewelry accordingly to your own tastes; try to know what kind of metal and gems she loves. Pay your attention to the design as well. Giving a ring seems to be ahead of time – take something different. An elegant necklace or a bracelet will be great.
5. Accessories
If your prospective partner is enthusiastic about fashion, you can bring her a delightful accessory, say, a stylish bag, a purse, a hat, a pair of gloves, or a scarf etc. Obviously, such a gift must be relevant to your lady's preferences and interests. As you can see, communication is the core ingredient of any romantic relationship – it gives you the necessary information about things your mate favors. Whatever you purchase, your job is to pick the suitable colour, shape, length, fabric and so on. In fact, nothing is wrong about asking her opinion in advance. Likewise, we suggest you take the help of some female friends while shopping.