29.04.2020
To arrange a romantic date at home, you don't need to look for a reason because you can please your loved one at any time. An unexpected home date organized by a soulmate brings more joy than the one dedicated to a particular event.
Romantic dates bring spiciness to the life of couples and don't allow feelings to fade even for a moment because the romantic atmosphere is fuel for relationships. So, if you found someone interesting on a single woman dating site, let her feel special and arrange a home date night.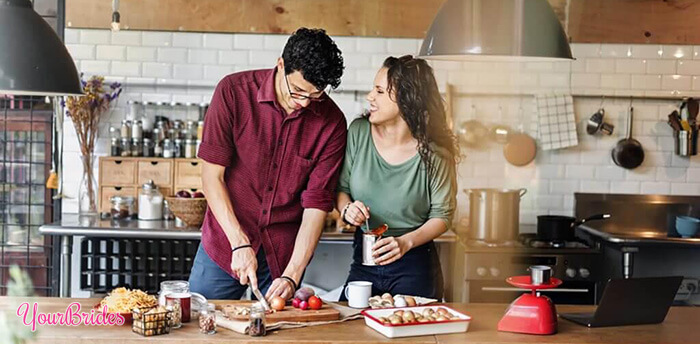 Steps to Arrange a Good Date at Home
Don't forget that the best surprise is a well-planned action. Do you want to organize a memorable romantic date for your loved one? Prepare yourself carefully for it. It is advisable to plan everything in advance.
1. Come up with a scenario
When coming up with date ideas for when you're staying home, first of all, think about the interests of your loved one. Don't be selfish. People tend to get carried away with their own feelings, forgetting about the desires of a partner. Of course, you should also enjoy it, but make a gift out of this date for your loved one. Fulfilling the desires of your loved one is even more pleasant than getting what you want.
2. Choose the right moment
If you decide to arrange a surprise for your loved one when she has problems at work or just a lot of things to do, this is unlikely to be a pleasant surprise. And a tired woman after work would rather want to sleep than spend a romantic date together, thinking about the importance of keeping chemistry in relationship. The best option is to discuss in advance which day of the week will suit you two.
3. Decide how to make an invitation
You can reveal the cards immediately and directly declare to your beloved, "I want to arrange a romantic date for us." But it's better to intrigue, saying that she will soon be surprised. Having turned on your imagination, it's easy to come up with the text of a message in a mysterious style. The more unusual romantic date ideas at home you have, the more interesting it will be.
4. Take care of your appearance
You have to look great. This applies to both women and men. Even if the date takes place at home where you both live, you must look attractive – it is unacceptable to meet a partner with dirty hair, in old trousers, and so on. A neat hairstyle, clean, well-groomed nails, beautiful linens (if you plan to continue the evening in bed), and a pleasant but unobtrusive perfume will help create the necessary atmosphere.
5. Create a romantic atmosphere
Looking for cute at-home date night ideas, you should know that candles are mandatory attributes, with which we associate romance. Light them on a table or place them in a room. Dim the light – the twilight and soft flickering of candles will instantly create the romantic mood in you and your loved one. Turn on beautiful music in the background. And start your date.
15 Great Home Date Night Ideas to Brighten Relationships
In the life of each couple, there are days when you don't want to go anywhere, you don't want to invent anything but just want to spend the evening at home. However, it can be varied. You can make it interesting and unforgettable. We offer you the 15 best at-home date night ideas.
1. Favorite YouTube video evening
We're sure that you have at least a few dozen YouTube videos that have influenced your worldview, made you cry or laugh. Do you think your soulmate has favorite videos too? It is time to find out it.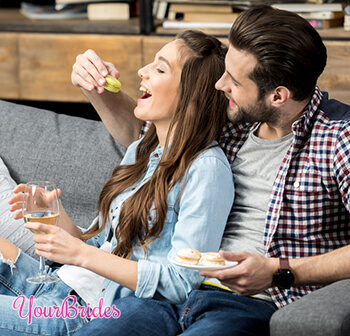 We suggest having an evening watching your favorite videos (which, no doubt, will help you get to know each other a little better). This is one of the fun at-home date night ideas.
2. Home spa
What are the stay at home date night ideas? Well, many people love spa treatments, so why not arrange them on your own? Start with a foam bath with your favorite aroma, place candles, turn on your favorite calm music, cool champagne, and don't rush anywhere. Give each other a relaxing massage, apply nourishing masks – you will definitely like it!
3. Home cinema
You can't just return from work and sit on the sofa but create a real movie theater atmosphere. Lay a fluffy bedspread on the floor and take popcorn. If the weather is bad, wrap in a warm blanket, drink mulled wine, and enjoy watching movies. Arrange a small lottery: let each of you write on separate pieces of paper the names of your favorite films, put them in a jar, and then pull out the first one you got, and the rest of the films will remain for the next evening.
4. Play games
It is no less interesting to spend time in the walls of the house. So, organize an evening of games. You can compete in checkers, chess, backgammon, monopoly, cards, computer games, and so on. You can fulfill each other's wishes if you lose. Excitement and fun are guaranteed. Just don't forget to turn off the phones so that nothing distracts you from the process.
5. Spend the night in "another country"
You are at home, but it doesn't mean that you can't "travel" a bit without leaving the apartment! A night in Italy can include homemade pizza, a bottle of Chianti, ice cream, and an Italian-themed film, such as Baaria or some comedy with Adriano Celentano. Other wonderful "directions" that make it possible to enjoy a duet of delicious cuisine and interesting cinema are Japan, Mexico or France. This is one of the most unusual ideas for date night at home.
6. Book cafe
Of course, we will not disregard fans of intellectual entertainment. The "book cafe" is an unusual and atmospheric way to spend an evening. Instead of dishes and desserts, quotes or whole fragments from books await you and your partner. The purpose of this pastime is to find out each other's opinions about things that concern you. It is worth preparing thoroughly: select quotes and print them (or write on the sheet by hand).
7. Degustation
Drinking a bottle of wine together, watching the series, is, of course, nice, but why not treat yourself to some kind of tasty cocktail? Feel like real wine tasters or your favorite liquors. Make light snacks, buy a couple of bottles of good wine. Fruit slices, chocolate, and cream can be a nice addition. Instrumental music and candles will help create a romantic atmosphere.
8. Sing songs in karaoke
If you and your partner like to sing, then you should perform as a duet. Sing some romantic songs in karaoke at home. This will allow you to get close, as well as get a lot of positive emotions. If you don't have karaoke and a microphone, then you can sing using the remote control or comb. It will make you laugh and cheer up.
9. Arrange a thematic evening
An ordinary candlelit dinner will instantly become brighter if it is timed to some theme. For example, it can be a party for two in the Japanese style. To do this, you need to completely recreate this atmosphere: apply the appropriate makeup, decorate the room with sakura branches and light small candles around the room. Food should also fit into this format: cook rolls and make unusual canapes. A well-designed romantic evening at home can replace an expensive restaurant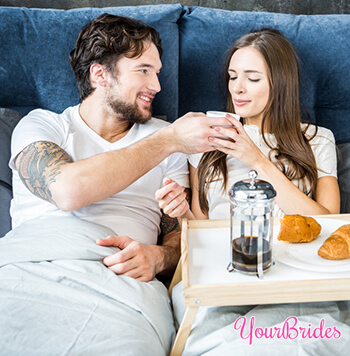 10. Evening of memories
What are the most romantic home date night ideas? An evening of memories is an ideal way to rekindle past feelings and passion. To get started, properly arrange a room where you are going to give in to common memories. Prepare the dishes that you tried in the cafe on the first date, turn on good music from the past, find photo albums, and old videos. Then you can arrange a photoshoot in funny or beautiful clothes. You will create many new happy memories that will warm your souls for a long time.
11. Draw together
What are the best home date night ideas? Well, try to arrange your drawing master class at home. Take sheets of paper, paints or pencils and, if desired, wine or another drink for mood. You can even try to draw each other. Even if you can't paint, don't worry! It will definitely be fun and unforgettable for your couple.
12. Have a photoshoot at home
Dress beautifully and take photos of each other. You can have fun just by making cute faces or showing creativity, so try to create some really intriguing photos. You can search for a photoshoot date night at home ideas for married couples on the Internet where you can get a little inspiration.
13. DIY party
Do you like making something with your own hands? A home date is a great occasion to have fun, and, for example, cut a thousand hearts from paper together or draw cute cards for each other and hand them solemnly. Recently, it has been fashionable to remake vintage furniture, so why not do it together? Even painting a chair will turn a romantic mood into a spectacular action.
14. Dance together
This is one of the interesting at-home date night ideas for couples. Dancing with a loved one with subdued light, good music, and fine wine is always romantic. Even if one of the lovers doesn't know how to dance, the time has come to learn this. There are many videos on the Internet, which explain in detail how to learn this or that dance. Choose lessons according to your mood.
15. Dine together
It is not necessary to go to a pathos restaurant and put on the best outfits. How do you like the idea of organizing a face-to-face date... on the balcony? It is not necessary to cook: food can be ordered at your favorite food restaurant. You can just be together, listen to pleasant music, dream or plan your vacation. You just need to let go of the situation and enjoy each other.
You can use these ideas separately and also combine any other options or come up with something else. And in some cases, arranging a home date, an idea can come spontaneously, and you will immediately put it into practice. The main thing is to remember: don't make romantic dates too often because frequent romance can get boring. In a relationship, for the most part, other emotions should prevail. However, this is a topic for another article.