30.10.2017
Much has been said about the negative impact of phones on relationships. They are often blamed for stealing live communication and distracting partners. However, they transform into essential tools when it comes to long-distance relationships. In this case, partners, who have to be away from each other, can only be grateful to the technology for the opportunity to keep their relationship alive. Modern smartphones have a lot of features and can be used as intermediates of different ways of communication. Making calls is still their main function but not as popular as texting. People send SMS messages, use various messaging apps, and text via social networks.
Many relationships start via text. A single message can become the first line of a new love story. As the relationship evolves, partners create the sense of presence through … texting! It's hard to imagine a romantic relationship without sweet good morning and good night messages that lovebirds send each other. They want to be together 24/7 but it's simply impossible due to their busy schedules, so texting helps them be together in the parallel virtual universe.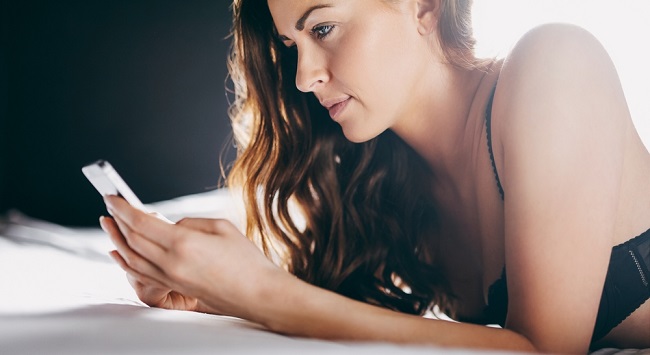 Texting vs. Calling
Millennials are often blamed for killing live communication and promoting faceless messaging. They are just using the perks of technology. Well, the way people communicate today is a disputable topic, and the lack of face to face conversations is a downside. But is texting wrong? Isn't it an advanced version of letters? In terms of relationships between men and women, contemporary lovers can write sweet words and declarations of love whenever they feel the inner urge. And they don't have to wait for days or weeks for the reply letter.
According to the recent studies, messages are even more effective than voice calls. When you type a romantic message, you're more emotionally excited and you're more careful with words. You have time to think the text over, type, edit, and add more text and emoji. You try that hard because you want to make up for your physical absence and you want to make your message sound as realistic as possible, even make it convey the tone of your voice. The reason for such meticulousness can be also the thought that your message will be read and, what is more importantly, re-read by your significant other, so you want to eliminate all possible wrong implications. It proves that text communication is even more arousing than talking.
The importance of goodnight messages
Does a good night message have only one purpose: to wish your beloved a good night? Actually, it has dozens of implications. Wishing her sweet dreams after the first date shows her your romantic interest in her and your desire to continue this relationship. As you date as a boyfriend and a girlfriend, it means that you wish to fall asleep near her but since you don't live under the same roof yet, your good night text message conveys that you go to bed thinking about her.
It is the fact that the things we read 30 minutes before we go to bed and during the first hour after awakening are better recorded in our memory. Also, it's important to go to bed in a good mood.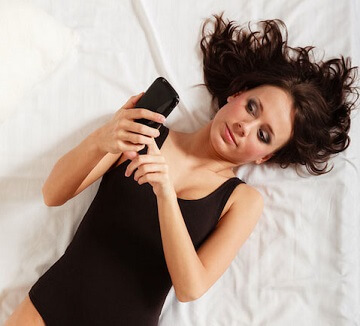 What could be a better mood booster than a cute good night message from the right person? Your girlfriend may feel stressed and tired after a long working day, but your message can relieve her stress, cause a smile on her face, and tune into the right sleeping wave that will bring her sweet dreams.
In terms of dating, romantic good night messages are a part of flirting. Depending on the level of intimacy already established between the partners, the content and the implications of text messages can vary from innocent to dirty.
Romantic Good Night Messages for a New Girlfriend
When you are at the outset of a new relationship, it's crucial to send the right clues to your love interest so that she will understand your intentions. Usually, the first message is sent after a first date or on the next day. You should know that girls look forward to this message, so don't fail to write and send one. Usually, people wish a good night only to their dear people. So, if you consider that girl special and you see the future of your relationship, you should know the rules of good night messages for her.
The main rule is moderateness. You should also have a sense of appropriateness. Bombarding her with messages is a bad strategy since you infringe on her private space and it can freak her out. Take into account timing. If you know that she goes to bed early, don't bother her with your message at 1 a.m. And another important tip: keep it simple and unobtrusive. What to write? It's a good question. First, you should define the goal of your message – what you want it to convey. After that, get to typing. Here are some examples.
1. Cheering her up. If you already know each other well enough, you can recall some situations you've gone through together. If your girlfriend is sad because of a bad day, cheer her up by remind her about her successes – big or small – to distract her from negative thoughts. Go like this, "Good night Miss Skater. I'm proud of you, I remember your first experience at the skating rink but I still can't believe. You were just the best. Kiss you."
2. Letting her know she is on your mind. It's so heart-warming to know that the person you are into thinks about you all the time. Give your girlfriend this pleasure and write something like, "You must be sleeping now, but I just heard a beautiful song that made me think about you. You're always on my mind."
3. Making her miss you and arousing her curiosity. A good ending of the day is reminding her you're looking forward to your next date. "Sleep tight darling! I'm counting the hours until I see you." If you're only planning a date, then here is an example: "Have a good night, sweetheart. Brainstorming ideas for our next weekend. There is one but it's a surprise. Maybe you'll see it in your dream. Tell me tomorrow."
4. Complimenting. What to write her at the end of the day? A compliment is always to the point. Even if you've said many pleasant things during the day, a final written one will be another evidence of your admiration. "Good night honey. BTW you looked gorgeous in that dress tonight. I close my eyes and see you."
5. Showing you do care about her health and mood. Women appreciate care and attention. By expressing your concern, you demonstrate you're not indifferent to her. "Have a good rest this night. I want to see you fit as a fiddle. If you need something, I'm a phone call away."
6. Playing the "if I was beside you" game and teasing her. "Are you cold? If I was there, my warmth would do for two of us. Feel my virtual hug. Sweet dreams."
Sexy Good Night Messages for Couples
Flirty romantic messages are typical of the initial stage of relationships. However, partners shouldn't forget about their power after entering into long-term relationships. Texting is a great way to stay in touch during the day. And it's totally indispensable if partners are in a long-distance relationship or temporarily live away from each other. In order to stay emotionally connected, they are advised to text occasionally during the day and write morning and evening messages. Often, temporary separation can be beneficial to the relationship. Partners miss each other, and it makes their reunion really emotional and passionate. Anticipation definitely turns them on. Here are some ideas for a seductive good night message to a girlfriend.
"We are in different beds. One of us is in the wrong place"
"Wish you were here next to me. Naked"
"You're on my mind. And my mind is getting dirty"
"Good night sweety. I will come in your dream to make you feel sexy"
"My bed sheets still smell like you, but I'm afraid the scent will fade soon. Want you here. Night"
"I know you've been a good girl today. Now I let you think of me dirty and relax"
"My sheets are so smooth. We'd mess them up together for sure"
Sweet Good Night Messages
If you want to create a good night message for a girlfriend, you can either activate your imagination and come up with a great text or use the following templates as the basis for your messages. Make your message more personal by mentioning your girlfriend's name. Even if you found some text on the Internet, adding your lover's name to it will make it sound more convincing. Sweety, sweetheart, darling, cutie, babe – these words are cute, but her name will touch her even more.
There is no moonlight tonight and the stars don't shine – just like me without you. Hope to see you in my dream.
I feel I haven't done something important today. Ah, wishing you a good night. Sweet dreams, darling! Now, mission is completed.
Suddenly felt your touch on my skin. It was just a déjà vu. Can't wait to embrace you tomorrow. Good night.
Good night my angel. Promise me to return from the stars with the sunrise.
If someone in your dream will hug you, know it's me. I dream about it every night. Sweet dreams.
Sleep soundly in my love. It will guard you against nightmares. Love you endlessly. Night.
Every night is a gift to refresh and rest. Don't waste it. Good night.
I'd like to be your pillow and be in your arms. Kiss you. Sweet dreams.
Thank you for one more day with you. Hope to say the same tomorrow. Already miss you. Sleep tightly.
Send you millions of kisses and hugs. Hope they will warm you in your bed. Sleep well. Sweet dreams.
You are the only one whom I want to wish sweet dreams every night. Sweet dreams, my angel.
Can't sleep without you near me. My heart can calm down only in your arms. See me in your dream because I will. Nite.
Get inspired by our cute good night messages text her to sleep.