23.10.2019
Have you ever wondered why some men manage to find a woman by barely registering on a dating site, while others use many dating sites and apps for years, go on dates but still, can't start relationships? Everything is actually as in reality. There are nuances that you need to understand.
If you want to meet single ladies on a dating site, you have to upload nice photos first. The first impression matters, and when it comes to dating, the first impression is your photo in a profile, not your inner world. Check out the win-win tips on choosing your best photo.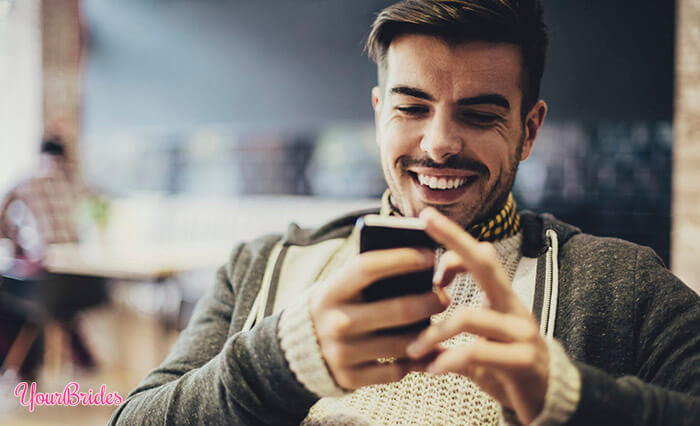 Is a Profile Picture Really Important for Online Dating?
Each of us has heard more than once that we shouldn't judge people by their appearance. People, filling out profiles on dating sites, express a desire to be appreciated for their inner world. However, appearance plays a big role when making the first impression on dating sites. The profile photo forms an impression of a man forever.
Scientists experimentally managed to prove this. For example, a man with a friendly expression and smile on his face forms a positive image. This image is difficult to forget, and it inevitably affects future communication. Moreover, after finding a single girl online and then meeting, people tend to keep the impressions, received during the first interaction with a person's picture.
Choosing a profile photo, men understand that women will judge them by it. Taking a look at the good profile picture for a couple of seconds, they create the first impression in their heads, which they adhere to. Moreover, the potential girlfriend will try to "confirm" the image, even if you behave a little differently in life.
What to Demonstrate on a Profile Picture?
When planning to find your soulmate on a dating site, don't forget about the simple rules that will help increase the chances of success. First of all, it is important to think about high-quality good profile pictures for a dating site – it is no secret that most visitors view profiles in automatic mode and pay attention to those photos that caught their eye.
Your hobbies, lifestyle
Information about hobbies and interests will play an important role in the desire or unwillingness to meet. First, of course, a commonality of interest will attract attention. This may be the reason for the first message. Don't be shy, even if you know little about something. The main thing is your sincere interest in the activity. Secondly, a hobby indirectly provides information about the nature of a person. Someone likes to mess with animals and someone like scuba-diving. Who knows, maybe one day you will meet a woman who will be happy to meet with you dawn on a mountain peak or dive to the bottom of the ocean in search of corals.
Your sincerity and positivity
How to take a good profile picture? Your image in the photo is the first thing that attracts the eye. It is hardly worth choosing a photo where you are in a state of combat readiness to fight any troubles. Women see such men every day. On dating sites, they are attracted by live images, smiles, positive emotions, eyes. Women directly state that a gloomy look doesn't contribute to the desire to communicate. By the way, due to the phenomenon, which psychologists-sociologists call the "halo effect," we are inclined to assume that attractive people have other good qualities besides nice appearance, including sincerity and positivity.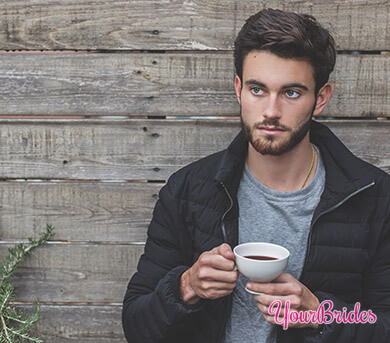 The best of your appearance
Women also love with their eyes, and therefore, deciding to find a man for a serious relationship through a dating site, the first thing they pay attention to is the photo. Therefore, it is important to post a picture that not only reflects your inner world but also attracts the attention of a potential candidate for a wife. Think you have a nice face? Take a close-up picture of it and don't forget about your beautiful smile. Do you have sports shapes, but think your face is far from perfect? Take a full-length photo in clothes that emphasize your masculinity.
Dating Profile Pictures Don'ts
Many men who are looking for love online make the same mistakes uploading the "wrong" photos. Therefore, we've decided to list the most common mistakes so that you can read and do the opposite.
Selfies and mirror photos
These are the most annoying dating profile pictures according to girls. 78% of women like when men have photos taken by someone else. Endless selfies give only 30% of the information about you. A potential girlfriend will probably want to look at you at full height, otherwise, she can give vent to the imagination and draw in her head not what you are. Perhaps due to that fact so many women just scroll your profile and look for someone better.
Somebody else on your picture
...especially when there are many people and the photo doesn't contain any comments about where the candidate is. Guess who of the three (five, seven, nine, etc.) men is looking for a girlfriend. Some women are simply too lazy to solve this charade and don't want to look for you specifically in the crowd of your friends. Why should she do this when she can simply scroll through and look for another candidate?
Not your own photo
If you upload a photograph of an actor or musician as if he is you, then it looks like you are informing the woman that you consider her silly even before going on a date. Someone else's photo in the man's profile is a reason to be wary. It's very strange to use someone else's image (which a random person might fall in love with, who then wants to have a real meeting) on a site where you are looking for your love. Moreover, a serious relationship implies trust and openness. And the beginning of a relationship with deception looks at least strange.
Standing back to the camera
Women want to see your face or rather look or smile. Photographs in which you stand back to camera cause irritation since it is not clear why the man posts himself if nothing can be seen. A high-quality photo doesn't mean staged. It just should be of high-quality and with a look at the camera. Making profile pictures, they should reflect you in life. A cheerful man will surely attract attention. Therefore, post only cool profile pictures where you look right at the camera, and your inner state of happiness is seen.
Old picture
It is clear that all of you are young at heart and don't see the difference between your present and your past but, actually, there is a difference and sometimes it is very significant. When some woman sees the man's age, for example, 40 years old and the photo of the 20-year-old guy, she subconsciously begins to suspect that he hides something. Who wants to spend the rest of their life with a liar?
Sexual innuendos
Not the photos themselves are strange but the fact that a man decided to post them. Guys, intrigue! You shouldn't immediately show your body as much as possible. Not all girls are like this. Of course, girls will not mind admiring your abs and hairy breasts in personal correspondence, but not everyone may like such a profile picture. These are photos that cause bewilderment. And since you set serious goals, then the approach should be appropriate.
How to Make a Good Profile Pic: Tips and Advice
Relationship experts shared tips to help you take a picture for your profile on dating sites, guaranteeing the attention of the opposite sex. It's okay if a fateful meeting takes place on the Internet! You can properly prepare for a date. Take note of the tips but don't overdo it, leave a trump card for the first meeting.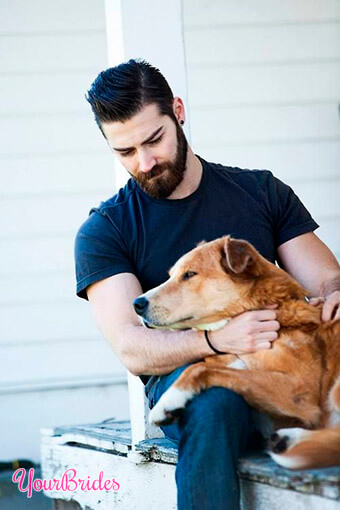 1. Be yourself
Your profile photo on a dating site should look like it was taken on your really good day, and it should still reflect your state of mind! And ask what your friend thinks of it! A study in the Communication Journal mentioned that while photo owners on dating sites rated their own photos as relatively nice, independent judges rated a third of the photos as bad. So, use the pictures taken by your friends in everyday life and listen to their opinions.
2. Stay friendly
How to take a good dating profile picture? Regardless of who you are looking for on the Internet, it is very important to show that you are open to communication. Many men make the mistake of posting photos with cool, arrogant facial expressions. Your profile has to look friendly. Indeed, otherwise, women will be afraid to enter into dialogue with you. And no aggression!
3. Don't use too many filters
Photo editors allow you to change the appearance. And this, unfortunately, is causing disappointment. Indeed, in the photo, women see one person but in life, he turns out to be completely different! When you make a profile pic, try to limit yourself to a light retouch that doesn't change your face. It is also important that the photo is as realistic as possible – that is, you don't need to use 100 filters to make the photo better. Women don't like such glossy, "artificial" photographs.
4. Play with the light
Women want to see a quality photo in which they can clearly understand how you look. Experts advise taking pictures using natural light – this is one of the best profile picture ideas. The best time for such a photograph is evening. At this time, the sun goes down, and its rays become softer. Photographers consider selfie a bad idea and opted for a regular shot. A person photographing you should stand at a distance of 1.5 meters from you. The distance will help avoid image distortion.
5. Be in the center
If you take pictures with buildings, sights of the city or nature in the background, don't get lost in the photo. Stand in the center of the photo. If this option is not entirely suitable for a particular shot, at least remember that you should be in focus. Although, you can show imagination but be extremely careful because creativity is easily confused with strangeness. This is how to make a good profile picture.
6. Show your professional success in the photo
A successful astronaut, a businessman, an office worker, etc. can be interesting to women. Demonstrate photographs from the workplace in the work environment, especially if you have your own office. Photos in a suit or uniform, at a table with a computer, in the engine room or from a professional exhibition at a stand next to various exhibits are also good. If sport occupies a significant part of life, then a photograph from the gym or stadium will work out as well.
7. Show your healthy lifestyle
How to take a good dating profile picture? Take a photo in the early morning, when you do exercises or with colored dumbbells in your hands, jogging in the fresh air or during breathing exercises in spring. Any positive trifle associated with optimism and health in everyday life is important on a dating site. In some cases, you can upload photos from a ski resort or any other sports place (although they don't reflect everyday life but show that you are an active person).
Why is it so important that your page has exactly a good profile photo? This photo decides your fate. You can have a perfectly filled profile, but if the photo is bad, then your amazing qualities will not interest anyone. You have to remember that women also pay attention to photos. With your photo, you can attract precisely those ladies who are of interest to you.