21.11.2019
Any girl dreams about the day when her beloved man will come in her window with a chic bouquet of her favorite flowers and, having got down a knee, make a long-awaited proposal. And every young man who is madly in love with his girlfriend will fulfill her dream with pleasure. However, after all, dreams are so different, and how to guess what exactly your girlfriend wants to get?
Perhaps it is just impossible to make a wedding proposal perfectly even if you try extremely hard to find the "most successful formula." You can be 100% sure that you know the preferences of your beloved partner and know for sure how she imagines this event, but if she hasn't told you anything about her vision, all your guesses can be wrong. Sometimes even the extroverts want a very modest and quiet version of the course of events. Nonetheless, to not make a proposal at all and sit quietly until the girl will clearly explain to you what she is expecting is also not a way out. Let's try to systematize the accumulated knowledge and experiences of other people to come up with the marriage proposal ideas that have great chances to become a win-win option.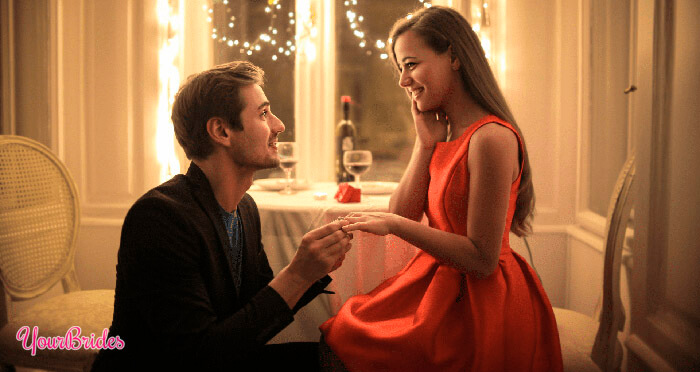 Who Should Make a Proposal?
Modern marriages are concluded only by mutual agreement both from the groom and the bride. And the tradition of making a proposal is currently an integral ritual before any wedding. As a rule, it is a man who makes a wedding proposal, and not vice versa. But since marriages can be concluded between same-sex partners in some countries today, and many women do not consider traditional canons to be fundamental, this ritual can be started by any of the partners. That is why a wedding proposal is considered an event when one of the partners asks another one to get married and create a family. This definition applies to every case in modern society.
Almost every woman (including those whom you can meet on women seeking men sites) dreams about a romantic wedding proposal no less than about a magnificent and beautiful wedding. This touching moment is very important for her, and modern men very often underestimate it. When they get rejected, they find the beloved's actions incomprehensible and sometimes even outrageous, not understanding that they have chosen the wrong place and time for taking such an important step. And only a few of them try to find out why all this has happened and what to do next.
The marriage proposal should be carefully planned, prepared and implemented to get such desired "yes." So, those who have been dating for a long time, or even living together, will have a pleasant and amazing event, which will become their first family memory. Well, those who are drawing a line under the courtship period (when they have used dating tips) and understand the importance and necessity of having a loved one, should also think carefully through the engagement proposal ideas.
The very moment of making a wedding proposal should not be spontaneous and mentioned among other things as if you offer to add apples to your shopping list. Therefore, turn on your imagination or use one of the below-mentioned proposal ideas.
How to Get Ready for a Proposal?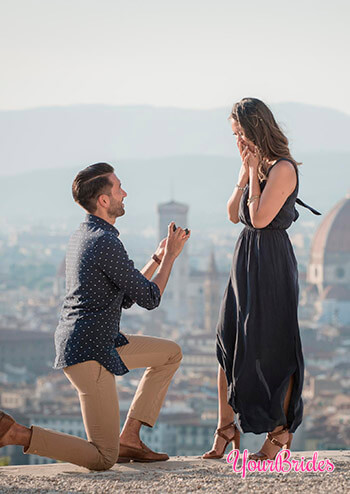 A wedding proposal is a very important moment in a couple's life, which marks a transition to a completely different level of your relationships, so you cannot do it among other things by inserting a phrase like, "The weather is good today, we should probably get married." The traditional phrase-question, "Will you marry me?" is best suited for such a proposal, especially when it is uttered in an even calm voice, without embarrassment and unnecessary excitement.
You should be ready for any answer from the girl. Of course, when a guy makes a proposal, he hopes that his beloved one will immediately rush to hug him, saying, "YES, YES, YES," but you need to recognize the girl's right to say, "I can't answer now, I need to think" as well as "No." And if the girl's answer is not what you have expected, you should treat it calmly and with understanding.
Nobody is in charge of your happiness, so to do everything beautifully and correctly, be sure to consider the tastes and desires of the girl. It is extremely important to choose the right moment for the wedding proposal. You should choose a moment when your beloved girlfriend isn't tired, she isn't in a hurry and has a great mood, especially if it is about some proposal ideas at home. Therefore, if you don't know how to propose to a girl, first, it is better to choose a day off or a holiday to take such a serious step or make it on a day that means a lot to your couple, for example, the anniversary of the day that you met.
Make sure in advance that nothing will spoil the moment of the wedding proposal. For example, if you plan to make an offer in a restaurant or other public place, it will be useful to agree in advance with the people who work there (administrator, waiter, musicians, etc.), tell them your plan and ask for assistance. Besides, you should take care of your appearance since it is considered a solemn moment, and you need to look accordingly at this moment.
It is better to choose a ring yourself. Involving a girl in choosing a ring automatically implies that your proposal will not be a surprise for her, and there is no romance in a situation when everything is known in advance. So, it is better to buy a ring yourself. To find out the girl's size of the ring is quite simple – you can look at the size of the rings that she already has, ask her friends or relatives about this, or even measure her finger while she is sleeping, and then compare the result with the table of ring sizes. It is also easy to determine which ring a girl will like, you should just analyze what jewelry she wears, or choose the classic version, an elegant golden ring with a small diamond.
Main Mistakes When Proposing to Your Girlfriend
You can prepare for this event for several months, studying all the tips on how to propose marriage that can be found on the Internet and still mess up. Of course, even the most ideal plan can have some weak spots and even drawbacks, but you should try to do your best to avoid moments that can completely ruin everything. If it is possible to turn a blind eye to some weaknesses that, in general, don't affect the whole atmosphere, then other things can spoil the very moment and cause embarrassment.
Rushing
Frankly speaking, it doesn't matter how long you have been dating or leaving together. Some people are ready to take all the responsibilities after several months of close communication while others are not ready to move to the next level of relationships even in several years. Before you decide to make a wedding proposal, it is better to talk about your common future in advance. Yes, people are not used to discussing such serious topics, but it's better to double-check the readiness of both of you to take a step toward your family life. It can unexpectedly turn out that a girl doesn't want to get married till, for example, 31, and her career is a priority now, or she doesn't believe in marriage in general. The fact that you love each other and are happy together doesn't mean that your views on marriage coincide.
Saying it when drunk
Only very confirmed romantics believe in the Latin saying that truth is in wine. All other people understand that alcohol pushes the boundaries of human generosity significantly. And if you have already got an impressive list of reckless deeds after drinking, then an abundance of alcohol can significantly increase your chances of making a wedding proposal. Yes, it's very easy to say the phrase, "Will you marry me?" being drunk, but it's definitely not the right time for that. It can happen that the girl can refuse, being offended that you are doing that in a drunken state, or she can accept your proposal, but you will not remember about that the next day or will regret it. So, both options are not that great as it may seem at first glance. And if you are sure that you want to marry your girlfriend, you should be better to stay sober and embody at least one of the simple proposal ideas.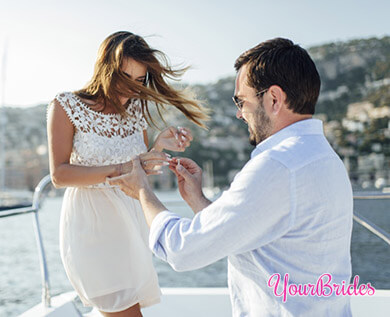 Making it in public when she is a shy person
Do you believe that it would be nice to be the guy who made the offer in front of an entire stadium of spectators? Please do not rush until your girlfriend shares your enthusiasm. It is more likely that you will scare your girlfriend away, especially if the young lady is an introvert or just a very shy person. Making a wedding proposal is a very intimate thing that requires a special atmosphere. So, how not to propose? Be cautious about doing it in front of a huge crowd of strangers who really don't care about you. Besides, it will be not very pleasant to be refused in public.
Strongly demanding her answer
To make a wedding proposal to the girl when she is sick and does not feel well, or when she has working deadlines or is worried about something is not a good idea. In such a situation, she may not be ready to give you the answer right away. Besides, even if there is no difficult period in the girl's life, she can be still not ready to give you the answer because she needs time to weigh all the pros and cons to make the final decision. We are different, and sometimes we need additional time to understand what we really want. The worst thing you can do in such a situation is to strongly demand the answer.
Best Proposal Ideas
How do you imagine the best idea on how to propose? Is it about a candlelight dinner, romantic music, and the treasured red box? But don't you think your beloved one is dreaming of some other scenario? Many guys believe that a girl dreams only about how her boyfriend will open a box with a ring in front of her, say words of love and ask her to become his spouse. But is it that simple? And does everyone dream of such a "banality"? After all, she is unique and most beloved, so is she worth making a proposal only as in the melodrama scenario? Be original and turn on imagination! Everything that you will do, you should do exclusively with thoughts about her. She should be delighted with your idea and, of course, answer with consent to the proposal. Get inspired by the following proposal ideas for her. Perhaps the best way to propose already exists, and you should just adjust it a little.
1. Place where you had your first date
Show your girlfriend that you remember and appreciate even the smallest details of your relationship. Bring her to the place of your first meeting or where you had your first official date. This will show her how grateful you are for finding such a special and amazing lady. It was this place that turned out to be a solid foundation for the first half of your relationship, and it will be very symbolic if it is in this place where you offer her to spend the rest of your life together.
2. Paris proposal
If you have the time and money, then ask the most important question of your life in the most romantic city in the world: Paris. However, you should better avoid tourist spots. Find a more secluded corner and make a wedding proposal there. Oddly enough, but it is such a place that will reveal the true beauty of the city. A restaurant or cafe with dim lights or a remote location on the banks of the Seine will become an ideal place for a romantic getaway. Some people believe that Paris has already become a cliché, but most girls still dream about such a scenario.
3. Nature retreat
If your girlfriend loves nature and prefers to spend time outdoors, take advantage of the incredible natural beauty. This can become one of the best proposal ideas. She will definitely like the proposal during the trip. What can be better than a proposal under a waterfall or on a top of the cliff? This will give even more impressions and add a little dramatic effect on such a magical moment. It can become a fascinating story that you will gladly tell your children.
4. Legend of love
In every city, there is a place with which the romantic love of a famous couple is associated. During the walk, tell your girlfriend this story and give a box with a ring at the end. Girls just adore such stories, and such places are saturated with amazing energy! Find out this love story in more detail because it should have a happy end. And it will be better if you tell everything yourself, instead of reading the text from the smartphone screen.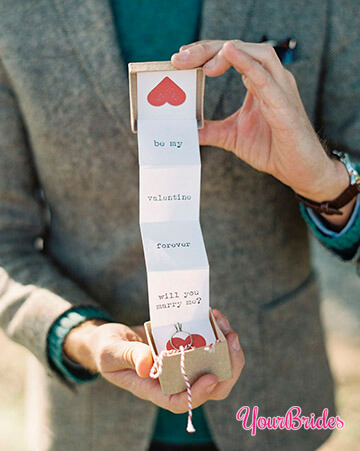 5. Your special place
Every couple has a place where they like to walk most of all and with which they have the warmest joint memories. This may be a shop in the park or a favorite cafe. A romantic and very personal option is to make a proposal in your special place. To make everything look wonderful, think everything through in advance and ask your friends to arrange this place comfortably and without unnecessary pathos. You need a couple of blankets, candles, a thermos with tea or a bottle of wine, a bouquet and, of course, the ring.
6. Love quest
For this option, you have to come up with something special. Make a list of tasks for your soul mate - these can be either simple questions in the form of a board game or an entire adventure with stops in memorable places for you two. Be sure to write the words of love at the end of each note with the task. And the main prize will be a box with a ring and your wedding proposal. Remember that the tasks should not be too complicated because the girl can get tired, and the final surprise will no longer be so joyful.
7. Photoshoot for two
Offer a girl to arrange a romantic photoshoot in the studio or in a beautifully designed location. She will not suspect anything! During photography, get down on one knee and make a proposal. As an additional advantage of this idea, all emotions will remain on the photographer's pictures - both her surprise and your feelings. You can discuss all the nuances with the photographer in advance and warn your beloved about the event in a few days to give her time to prepare the image.
8. Make her dream come true
Does your beloved girlfriend dream to jump with a parachute, get to a concert of a legendary band, visit the castle of the French king or get an autograph from a famous artist? Or have you always wanted to try to sail? Arrange such entertainment for her, and when you find yourself in the right place, make a proposal. And, of course, you should do everything with her. Just make sure that this is exactly the dream that the girl wants to fulfill. So that she will not refuse to board the ship at the last moment because of the fear of water.
9. Home date
If the girl is very sensitive and emotional, then it is better to make a proposal in the home environment. If you can't cook dinner yourself, you can order food at a cafe or restaurant, fortunately, today it's not a problem. It is not necessary to decorate the apartment with balloons and garlands because this is not the New Year, the main thing is to create a romantic atmosphere. It can be about candles, pleasant music, your last joint photos or videos that you have not had time to watch together, your favorite movie. When laying the table, the treasured ring can be used instead of a napkin clip.
10. Order a cake
It's no secret that most girls love sweets, and if your beloved woman is also a sweet tooth then you can order a cake that says, "Will You Marry Me?" Just don't hide the ring in it because there are high chances that a lady can accidentally swallow it or break a tooth. An ambulance and a dentist are unromantic. So, keep the ring in the box until the crucial moment.
Love Is the Most Important Thing
So, what will she like? It's up to you to decide. If you don't feel like taking risks, just do it in a romantic place. The best simple option is a restaurant or a special place. Nonetheless, remember that sometimes the place is not so important. Your words and the love that a girl should feel every day are crucial here. Both of you should appreciate every moment spent together, then your offer will be made with love and exactly as she has been dreaming about it.