28.08.2017
The first date is an exciting and memorable event which is of major importance in the continuation of the incipient relationship. To make a positive first impression, you should carefully approach the organization, think through all the important moments, come up with a route and try to surprise the girl, having a great first date. Anyone will hardly be surprised by going to the restaurant for dinner, it's time to add bright colors and stand out from the crowd. Men are often nervous before the first date, their thoughts run at the speed of light and it becomes difficult to come up with something special, so it's good to think through the great first date ideas in advance and choose the best option for you.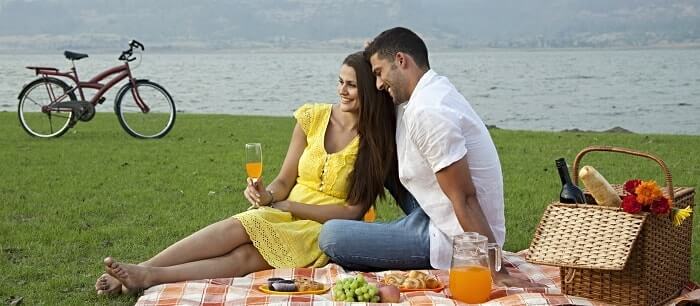 A quick guide to having a great first date
If the girl has agreed to go on the first date then she is already showing interest in you. It is logical that she does not want to lose precious time for an unpleasant man. Therefore, your main task is not to spoil the first date. Preliminary preparation for a date is the right way to overcome the unnecessary excitement. You need to think about where you will go, what you will talk about, in what things the girl will be interested.
A man should be confident, spontaneous, friendly and relaxed. Your task is to make the girl has an impression that she knows you all her life.
How can you overcome the excessive excitement?
You can eliminate the excitement before a date with the help of the technique of "square breathing". Its main advantage is that it can be used anywhere and anytime.
To breathe a "square", follow this pattern: inhale - pause - exhale - pause. The duration of these four stages should be the same. For example, inhale, hold your breath for three seconds, exhale and make a pause for three seconds. The ideal duration is 5-6 seconds. However, you should remember that it's better to increase the duration gradually by exercising at home. After a few minutes of such breathing, you will feel much calmer and more confident.
Behave naturally
Being on the first date, do not fuss, pay attention to whether you don't laugh too loud and how quickly you talk. Excessive gesticulation, as well as fidgeting or bouncing, will be unnecessary. The best thing you can do is to be yourself.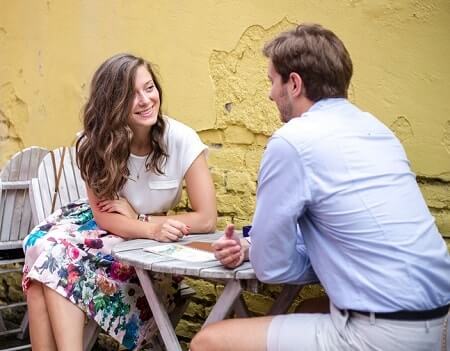 Do not try to impress the girl
How to have a great first date? Do not talk about your heroic deeds because she will see your fictional stories at once. Deceiving the girl, you can get confused or forget something you have said, and the truth will come to the surface. This behavior will spoil the girl's opinion of you. If you want to impress the girl, do that with your restraint and modesty.
Keep eye contact
It's no matter whether you talk or you listen to her, maintain eye contact. The result of the first date can depend on how you keep eye contact. This is a very intimate moment for many girls. Doing this, you will show that you know what you want and are confident in yourself. This will reduce the distance between you. This is a secret of the great first dates.
Avoid negative topics of conversation
On the first date, you can talk on any topic you want. The basis of communication with girls is positive emotions. Remember that girls do not like pessimists. This is proven by psychologists. If you want to be successful with women, stick to the positive side in everything.
Talk emotionally
Men get used to conducting a logical conversation, based on "bare" facts. Girls are interested in emotional part of the story, they want to listen to your feelings, experiences, sensations. Girls try to find the emotional side everywhere they can. Use emotional statements, pay attention to small things and you will find out how to have a great first date.
End the date on the emotional peak
Don't prolong the first date, especially a successful one. If everything is great now, this does not mean that it will not turn into a dreary and boring date in an hour or two. To avoid such a situation, it is better to leave at the peak of the date. As they say, "To leave on top." In this case, the girl will have the most positive impression.
Ending the date, arrange a second date. Tell her that you had a great time with her. Do not forget to add that your date was actually interesting and amazing. It is better to say such words when you are sure that this is mutual.
What should not be allowed under any circumstances?
Do not interrupt the girl
Try to show yourself from the best side and show a genuine moderate interest in the girl. Ask her interesting questions, listen carefully to the answers, show sincere interest in her stories but never interrupt her. Show her that you are a polite and a pleasant company, and are interested in her personality.
Do not show frank interest in the girl
You should be a gallant gentleman but without obtrusiveness and sharpness. The zealous courtship and flirting will alert the lady.
Do not make fun of the girl
A sense of humor is a powerful tool of the man since jokes cause a storm of different emotions. A bad joke can ruin everything. Therefore, if you are not sure that a joke will make her laugh, it's better to keep silent.
Surprise her on the first date: 17 creative ideas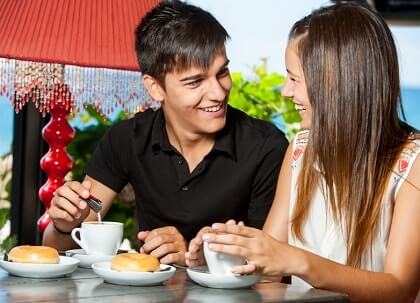 Invite her to breakfast
This can become one of the surprise date ideas for girlfriend. No one girl will expect an invitation to breakfast. Breakfast is an important start of the day, so what can be better than to get the good mood for the whole day, starting it with a date. If you can cook something yourself or order dishes in a cafe, you can arrange a morning picnic. This will hardly leave the girl indifferent.
Invite her to a concert with live music
If she is fond of music, what can be better than to invite her somewhere with live music? If it is romantic music, make sure that you can dance. It can become an unforgettable romantic date.
Arrange dinner on the roof
If a dinner at the restaurant seems to be a battered idea then arrange your dinner on the roof of one of the high-rise buildings. A wonderful view of the night city will be opened from the height of the bird's flight. Stars, a gentle wind, a stunning view are just the small part of the magic, provided by such a dinner. Nowadays it is not very difficult to find someone who will help lead you to the roof of any favorite skyscrapers and arrange a dinner with the necessary components.
Offer her to turn into tourists
There are so many different creative first date ideas that people don't use. Turning into a couple of tourists in your own city can become the interesting and funny option. Citizens get used to neglecting the tourist places and entertainments, but they still have something unique and interesting.
Master class from the chef
In most cases, the first date is always about eating. If you hold the same view, but you don't want to ask her to the usual café and you are looking for some surprise date ideas, take a look at the restaurant where there is a master class (even an individual one) from the chef.
Invite her to a special tasting
If you are still searching for an alternative to the usual dinner, try some wine, champagne or high-grade Chinese tea tasting. Nowadays there are even some exotic alternatives like cooking chocolate, using old recipes of Coenraad Johannes van Houten.
Invite her to the rock climbing gym
It is one of the funniest and creative date ideas if both of you like active sport. You can even arrange a little competition between the two of you and set a prize in order to add some excitement.
Invite her to play paintball
It is a cheerful idea of the first date but you should take into account that this is a very active and sometimes traumatic sport.
Invite her to spend your date in the theater
Theater with its special atmosphere and live actors can become an interesting option and one of the creative first date ideas. People do not choose the theater as a place for the first date just because they do not know about its magic. The movie, unlike theatre, has already become a common thing. If a girl is a romantic person, she will like it.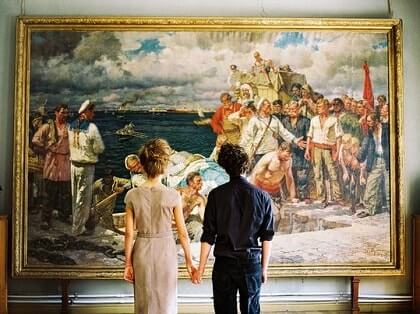 Offer her to wake the inner child up
Who has said that its boring to play hide and seek in the adulthood? Wake your inner child up and exempt yourself from the boundaries. This can become one of the cute surprise date ideas that help you get to know each other better without being afraid to look awkward.
Invite her to the museum
The museums of contemporary art will become a good start of the date. You can have a great time at the museum of modern art, trying to guess what the artists wanted to say with their masterpieces.
Invite her to go fishing
If the girl is quite extraordinary and she likes everything non-standard and, moreover, she loves nature, fishing will become really one of the surprise date ideas. Therefore, go to the lake or to the river.
Invite her to the game
If she is active and she likes different games more than high art, invite her to the game. Even if you are not a big fan of the football, try to find something else that will be interesting for both of you.
Invite her in a place where you can light a fire
If you want to use this option, you need to find a cozy place with a fireplace where you will be able to light it yourself. A flame has amazing attractive features. It brings together and gives an opportunity to become closer, talking about everything with pleasure.
Invite her to go to the flea market
The flea market is the most original place for the first date where you will see a lot of funny and antique things. You will get to know the girl closer, understand what she likes and discuss the unusual things put on sale. You can also buy and give her an unusual souvenir that will remind her of you.
Invite her to a dance class
Visit a one-hour dance class where both of you will be the newcomers. Even if the partner doesn't know how to dance right, joint exercises will draw you closer. Dance lessons are a great aperitif after which you can have a snack, restore strength and continue dating.
Invite her to go to the aquarium
It is difficult to imagine a more romantic atmosphere than a softly lit of the aquarium where strange creatures of ocean depths will swim around you. Going to the aquarium is a wonderful idea for the first date for those who are not indifferent to beauty and nature.
Whatever idea of the first date you choose, remember that every girl is unique and it's better to find out her preferences and tastes in advance to surprise her pleasantly.