28.10.2019
Dating is amazing. Cyberdating is even better. But why do some of us win over the best and hottest girl, yet others struggle for years, getting rejected and not being married? What is the reason? Is it your beauty or smartness that makes women worship you? Or does the problem lie deeper?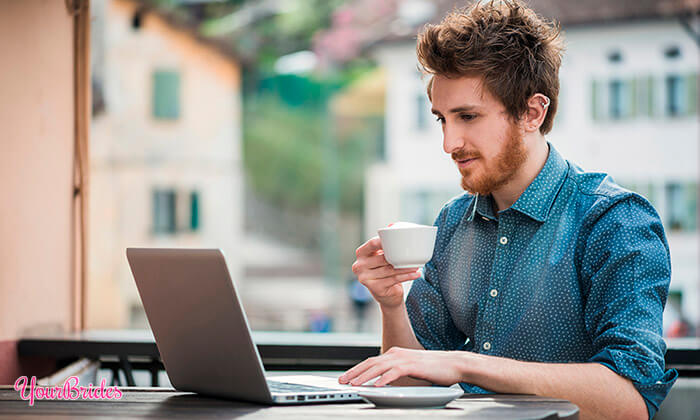 Important Dating Profile Components
The thing is, you need to create a carefully considered profile to attract women. Imagine you're being offered a job. But the market is too competitive, so everyone tries their best to impress the boss. Some men prepare the best image for the interview, others lie about their working experience. But who gets hired? The one who has the most interesting CV letter. Why is information so much needed? As you see in everyday life, the more knowledge we obtain about a person, the more trust we have for them. So, what are the crucial points that need to be added to your profile?
Your picture
Your picture doesn't have to look good. Just kidding, it needs to look bomb. If you want to find women online, you need to work on your outer image. A dating profile should be filled up with visual content, honest and raw. Dating profile pictures should reflect your entity, without catfishing and masking your imperfections and outer flaws. A good picture always has rules to follow, only the best ones should be honored to be put into your profile. Work with lighting, find your best angle. Have one portrait picture with your features nice and clear. Also, it would be good to upload a full-height pic of you, so that your body physique and height can be seen clearly.
Your headline
Your headline is something that gives a clearer view of who you are as a person. It gives flavor, makes it easier to get to know you even before you may talk to your crush. When it comes to singles, girls online like quirky men. They love smart, easy-going and sweet headlines that hint at your character. They want to know you are a good person, not arrogant and toxic. A laconic dating profile is the best dating profile. Here are a few short dating profile examples.
Looking for my forever Netflix and chill partner.
I am a nice guy but I will finish last only if you want me to.
Seeking a woman to share my happiness with.
Your bio
Your bio is what reveals the most essential information about you. It says about your age, education, place of living, goals, etc. Different dating profiles require different information to specify. The only reasonable thing to do is to be as short and fair as possible. Some men mix up a bio with a biography. A dating profile template can be unique from site to site, but it never says to write a monologue with your boastful lies. Be short. Specify where you were born. Be real about your height. Be truthful about your goals here, no sugarcoating. If you seek for a one-night stand, say that. Specify what women you are looking for. And again, be short with it.
How to Write a Dating Profile to Meet a Good Woman
1. First of all, provide safety and comfort for yourself. To register on dating sites, it is better to have a separate email for this purpose. Various service notifications about likes, gifts, messages, and winks will be sent to your mail. This will be a little annoying and, for the convenience of work, it is better if you have a separate e-mail for work and a separate for your love life. Also, come up with a difficult password and easy login. Have them memorized or write them down. The more secure it is, the better.
2. Be sincere about the purpose of registration. Write as it is so that later there will be no disappointment. In order not to find out that her "friendship and just communications" are merely hinting at a serious relationship, ask her to be direct as well! All in all, you are adult people, and adults can handle honesty. If you want just to have sex, specify in your bio that you are looking for fun, not for a committed relationship. Don't disappoint a girl who's in love with you. Dating sites are not the place to flirt and leave. And innocent catfishing for the sake of a one night stand can seriously worsen your chances of making the right acquaintance.
3. Be faithful about your income. Do not lie about money! Cases when men lied about having an apartment and then awkwardly denied the offer to go to their houses, it all happened too much already. Cases, when men had lied about their income but then weren't able to pay the bill, happened too much as well. Who are you kidding? If you invite a girl for a date, she will know if you don't wear designer clothes, earn millions and own a company. It all shows through even if you borrow a pair of designer trousers. So don't make yourself a fool and be sincere. And if you are truly rich, don't hint at it either. That way you won't attract scammers and gold-diggers.
4. Be sincere about your bad habits. If you occasionally drink or smoke, why saying you are innocent? Girls will find out about that eventually, and it will be a bad finding. Even though dating profile examples never contain that information, you should understand that it's just a perfect display of a perfect profile. In fact, humans are less than perfect. If you are sincere from the start, don't hide anything and confess in your sins, a girl will show immense trust in you.
5. Write about what you seek in a partner. This should not be a big part of your profile, but if you have certain requirements, it is good to mention them. Do you have children from a previous relationship and need someone who will not be scared away? Tell about it. Do you want a romantic relationship but not sex? Explain it! You do not have to describe the partner of your dreams (everyone wants someone smart, funny, wealthy, attractive), but do not hesitate to mention some important features without insulting someone who does not suit you.
6. Follow a 70/30 rule. When creating a dating profile, remember the combination of 70/30 between who you are and what you want. Women visit your profile to read about you, not about what you think they should be. Experts have found that the most popular men devote 70% of information to themselves, and not more than 30% to what they want from life or a partner. Do not be afraid to express what you want to say, but do not assume that life (or a dating site) owes you anything.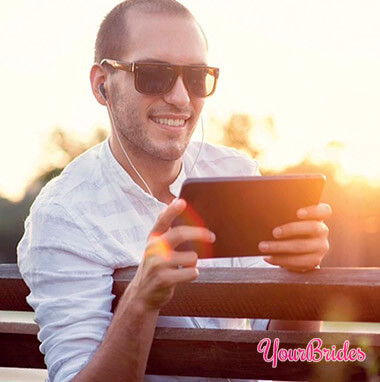 7. Check your grammar. You might be the wisest person, but when someone doesn't know how to write, it's not cute. It gives a clue about you as an illiterate person. If you want to know how to write a dating profile, do it intelligently. When you express wise thoughts but perform it poorly, it seems weird and clownish. How to write an online dating profile? With a spell-checker!
Dating Profiles Mistakes to Avoid
When men create an online dating profile, they surely want to appear manly, smart and cute. But some people go overboard and sound ridiculous at the end of the day. These are some mistakes to avoid, based on some dating profile examples for men.
1. You don't smile in your pictures. Guys think they look cool when they put on a smug face or don't smile at all. Here are some online dating profile tips: smile in all your pictures! Be a happy little bean. Don't be afraid to appear cute, nice or too happy. Happy guys are not creepy, overly serious men are, on the contrary, unpleasantly looking.
2. Don't diminish your qualities just for fun. A bit self-derogatory humor can be funny, but a profile on a dating site is not a place to show why you feel so bad in life. If you're not a comedy star, then don't show how cynically you hate yourself.
3. Don't write about your problems in your bio. You will have a chance to share all these things in private messages. Your profile is not a place for hate, regrets and insulting commentaries. When people come to your page, they want to see something refreshing with no negativity. We face it all the time in everyday life even without visiting the Internet.
4. Don't make derogatory or sex-oriented comments. Yes, women can understand that you are passionate in other ways. If you want to show yourself as a macho, show it in private messages. Not everyone needs to see your sexy side in the profile, and not everyone is interested in sex on a dating site.
5. Avoid stereotypes. Don't copy-paste quotes, bios, sentences, headlines. Be original. Even the simplest things are the most amazing when they come from your heart.
When creating a dating site, it is wise to consider a lot of things, think through your image, find a bunch of good photos, write an original and relatively humorous bio, be honest and sincere. Follow these easy steps, and you will be a heartthrob.