28.11.2019
You are over sixty and single and still full of desire to date women. While modern technologies give you an opportunity to meet single women online, you opt for more traditional methods. You are much into getting to know someone offline rather than online. Yes, you try it from time to time, but generally, you get the feeling that you are spending hours on chatting that leads nowhere. Thus, you are really into getting to know a woman who sits next to you, rather than the one who sits in front of the computer miles away.
And it seems like you have everything you need for getting acquainted offline. You don't look for younger women, and you won't face problems of miscommunication between generations. You really know how to compliment a woman. And, most importantly, you have a lot of love you'd like to share. But here comes the main problem, where to meet single women? There are not many parties for seniors going around near you. No point to be upset, though, as we've found the perfect opportunity for you to find your prospective match. You can opt for a cruise for senior singles!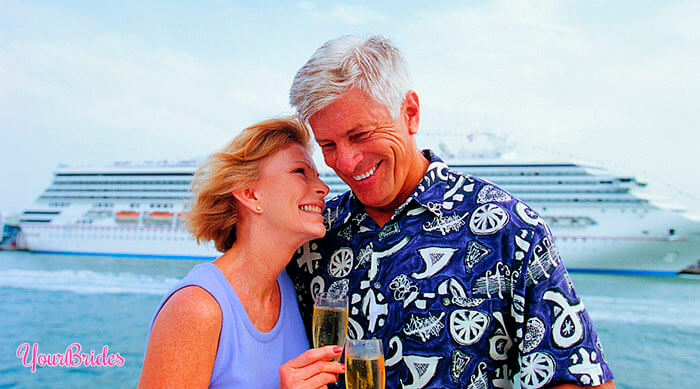 A Cruise is the Best Vacation for Seniors!
A cruise is indeed the best vacation for seniors. Many seniors prefer cruises for the conveniences, the variety of activities on board, and excursions on the shore. Personalized service makes cruises even more appealing for seniors. Seniors prefer being occupied both physically and mentally, that's why evening discotheques and other activities on the board easily attract them. Everything seems quite logical, but what are the benefits of single cruises?
Well, cruises for single seniors over 50 are a mix of those cruise vacation advantages with the opportunity of finding a prospective partner. Thus, basically, a senior single cruise offers single mature travelers an opportunity to meet a prospective match, being on a romantic voyage. So, yes the romance is very alive on single cruises over 50.
Travel agencies often organize cruises for single seniors, so finding one is not that difficult at first glance. And if you want to find your romantic partner at this age, you don't have to look any further. At first glance, it seems that all you have to do is to book a ticket for a single cruise and enjoy your perfect romantic vacation ocean waves splashing against the ship. But that doesn't mean that everything is that simple. Certain difficulties may occur. So, continue reading if you want to learn how to avoid them.
How to Choose Among Dozens of Single Cruises?
Well, nothing comes easy in the end. There are certain difficulties that you may encounter when picking the right single cruise. The main problem is that there are dozens of single senior cruises and each of them claiming to be the best one. And it's really difficult to make a decision when you see those patchy ads, where everything seems absolutely perfect. Well, to help you, we've collected some of the tips that will ease your decision-making.
Choose Your Destination
Cruises don't go simply drifting in the ocean for a few days, they all have destinations. That's why the first thing that you need to take into account when picking up the cruise is where you want to go. Do you want to go to some islands near you or you want to make a Transatlantic journey? Do you want to visit some exotic country, or you want to go to something more traditional? Should your destination be cold or hot? You need to decide that before picking up a cruise.
Think How Much Time You Are Eager to Spend on the Cruise
The second thing you need to consider is how much time you are eager to spend on the cruise. You are definitely not sea-sick if you are opting for a cruise in the first place, but sometimes a week is enough to start feeling uncomfortable on the cruise. So, you need to think about the duration of the cruise over before booking a ticket. The duration of the cruises varies from two or four days to one week or eleven days.
Consider Your Preferences
You need to consider your preferences. Are there any specific activities that you would like to be present on or be absent from the cruise? Whether it should be a simple cruise or thematic one? If you are missing the 1960s, you can find the cruises that offer performances of famous artists of that decade. You should also consider whom you want to meet, 'cause if you are looking for someone slightly younger than you, you can always opt for single cruises under 50.
Consider Your Budget
You should also consider your budget before going on a cruise. The prices vary depending on the ship, onboard activities, the duration of the cruise, and the destination. Thus, a cruise may cost you anything from $180 to a few thousands of dollars. Basically, if you have gone through all the above-mentioned details of the cruise you've already seen the price, which allows you to figure out whether you can afford it or not.
Read Reviews
Last but not least, you need to read reviews of the customers. Yes, everything looks like a paradise in the ads, but you should make sure that the cruise sticks to its promises. And reading the reviews of those who've already been on the cruise is the best way to learn whether it's worth your money or not.
Top 7 Best Single Cruises Over 50
Now, after learning everything you need to know to pick the proper cruise, let's check out some of the most suggestive offers.
That's right, we've collected some of the best single cruises for seniors for your consideration. You can definitely go on a search on your own, but if you are inexperienced and wonder what cruises for single people will fit you better, we offer you to check out our list without any further ado.
1. Fred. Olsen Cruise Lines
Now, what can be better than a cruise of the British immaculate quality? Say what you want about the Brits, but they definitely know what class means. Here you can find both a lot of on-board activities and privacy. Actually, the latter is what a lot of people are missing while on the cruise – privacy. Thus, thanks to a large number of single cabins Fred. Olsen Cruise Lines offers its customers a slice of privacy, while they enjoy the voyage through the cultural centers of Europe. While the ships are smaller than those that the majority of cruise lines offer, you can enjoy a variety of dining options as well as West End musicals while on the bored.
2. Holland America
Now it's time for something hotter, in terms of weather, than the cultural cities of Europe. It is one of the best single cruises 2019, but it has been holding "the best" title for a number of years. And that's not just some casual advertisement. The onboard activities include everything from yoga to lectures on a different subject, and performances from artists of genres ranging from chamber music to blues. And you can enjoy the variety of destinations, from drifting around the Bahamas to destinations like South America, Asia, and Oceania. Our advice is to opt for Oceania, as you are going to rejoice such off-board activities like petting the sloths and tasting Tasmanian winery.
3. IGLU Cruises
Well, if you are seeking for having fun and relaxation, then IGLU Cruises is the best option for you. Most of the cruises are within the coastline of the United Kingdom, and you can pick the duration that suits you better, either a short three-nights cruise or a longer six-night cruise that goes from the New Castle to the Shetland Islands. While there is a number of onboard activities, like an actual Brazilian Carnival on the board, what makes this cruise the best choice for seniors over fifty, there is the lounge bar that provides them with the option to find their prospective partners, as it is designed specifically for single travelers.
4. Paul Gauguin Cruise
While this luxurious cruise is not specifically for seniors, you can easily see why seniors fancy it that much. First of all, you are going to see the picturesque landscapes that inspired Paul Gauguin, the famous French painter. The cruises go to Fiji, French Polynesia, and Tahiti. You are going to learn about the culture of that region while enjoying free wine and beer. You are going to listen to Polynesian traditional music while getting acquainted with your prospective partners. The off-board activities include relaxing on the private beach of Bora Bora. Well, that's probably the best option you can get from a senior single cruise.
5. Norwegian Cruise Lines
Norwegian Cruise Lines can hardly disappoint. First of all, you can pick different destinations. You can either choose a four-day cruise that starts in Miami and heads to Havana. If you are more into chilly weather, then you can opt for a cruise from Vancouver to Alaska, which lasts one week. And if you prefer long voyages, you can opt for a fifteen days cruise which, again, commences in Miami and has its destination in Spain. On the board, you can enjoy the vast array of dining options and wonderful deck parties. Just like with IGLU, Norwegian Cruise Lines offers a lounge bar for single travelers to get to know each other.
6. Silversea Cruises
Silversea Cruises is one of the top luxury lines for a bunch of reasons. First of all, you get an actual royal treatment if you opt for their cruise. Silversea Cruises offers the largest cabins, which will make you feel like royalty. The royal treatment doesn't end there, as each guest basically has a staff member at their disposal, thanks to the staff to guest ratio getting close to 1:1. The second thing that makes Silversea Cruises stand out is that you can travel to more destinations than any other lines will offer. Mediterranean, Northern Europe, Caribbean... you name it.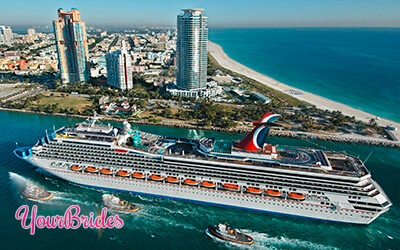 7. Singles Travel International
Well, Singles Travel International is your best option if you want to enjoy a cruise to both chilly and hot destinations, as well as getting a prospective match. You can enjoy small-boat cruises to the Iberian Peninsula, the Panama Canal, and the even Antarctic. And that's just to name a few, as there are dozens of other destinations that Singles Travel International offers. The best thing is that here you can opt whether you are into simple travel or a journey with the possibility to meet your prospective match, as you can book either a single cabin or a cabin with a roommate. A blind date on the voyage, why not?
Tips to Meet a Single Woman on a Cruise
Now, after learning what are the best single cruises and ships, it's time to learn how to actually find a prospective partner while on a cruise. Well, that's no rocket science, but you may be in need of some advice. That's why we've decided to create a list of tips to meet a single woman on a cruise, which we offer you to check out without any further ado.
Even if You're Far from Home, Look Sharp
We often forget that we should dress properly when we are on vacation. It is much more easy to wear something comfortable, rather than something sharp. But that's not a simple vacation, you remember? You are on a voyage where you have a possibility to meet your prospective match, so dress sharp. You can compromise and wear something both comfortable and good-looking. Jeans and shirt never did harm. And don't forget to wear cologne.
Get Ready to Communicate with a Lot of People
Solitude is the hygiene of the soul while traveling on your own is an opportunity o meet new people, make new friends, find new lovers or your prospective match. Unfortunately, a lot of people mix those ideas and prefer to be left alone while on a cruise. But you are on a cruise for senior singles, and you have a possibility to find your prospective match. That's why you need to communicate with a lot of people. Don't sit in the corner on your own. While that may work, that's not the way to meet a single woman on a cruise.
Find Interesting Spots and Activities
You should look for interesting spots on your off-board excursions and get involved in interesting onboard activities. Those are two sure ways to attract the attention of some single woman who is searching for her prospective match on the cruise. Just remember, the more you are in a spotlight, the higher your chances to find a prospective match are.
Take Part in Events
Maybe there is a magician on the board who needs a volunteer to participate in one of their tricks? Maybe there is some fun contest? Is there some lecture taking place on the board? Well, don't miss out on the possibility to participate in one. Once again, it will bring you in the spotlight and give you the opportunity to attract the attention of your prospective match.
Be Where All the Fun Happens
Is there a concert or a carnival on the board? Go there! You need to be there, as people are gathering there. And that is your possibility to meet new people. And one of those people you are going to meet can turn out to be your prospective match. All in all, you need to be there where all the fun happens. Parties, concerts, lectures, screening, be there. Don't miss them out.
Love on the Board
Well, now after learning all the tips for picking up the proper cruise and how to meet a single woman there, you should simply book one. You can pick one of the above-mentioned cruises or google them up and find the one you like most. So, book a place and prepare for finding your love on the board.