22.01.2020
Sometimes even the best romantic relationships may be affected by boredom and need some refreshment. Especially if your beloved partner spends most time working, and often whines that they are tired. Also, it is important to know that sooner or later everything becomes very common for people if two months ago, your dates in the cinema seemed fresh and new, today they may not be so. This is why it is so important to search for new activities and be productive in this search. Boredom is the biggest enemy of happiness, but here is when cool adventurous date ideas come to the rescue.
Even if you don't have a partner, you can still use some adventurous first date ideas to make your date memorable. Thus, you will show your new partner that you are different from other people. Plus, if you or your partner are one of those adrenaline junkies, you definitely won't be interested in having standard dates in common places. Also, you should never forget about fascinating cute adventurous date ideas that can reawaken your feelings if they seem to become colorless. The only thing that you need to consider before diving into the world of adventurous dates is your partner's interests and your budget.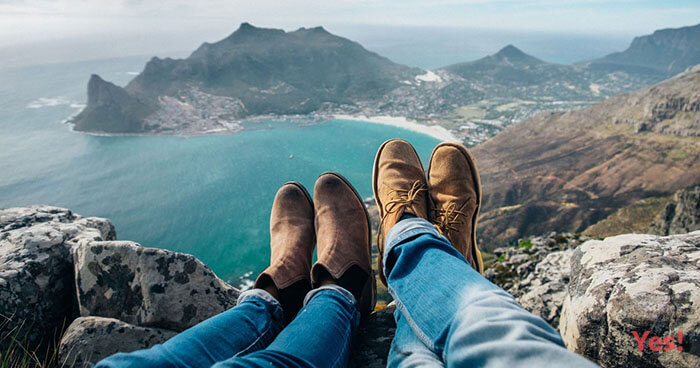 Benefits of Adventurous Dates
Are you still doubting whether adventure activities for couples really worth it? Okay, let's imagine that you are searching for a partner, you have been browsing the list of beautiful women online, and finally, you have found someone special, but she is definitely a very popular girl. So, how can a boy who doesn't have a Porsche and a million in cash, attract her? Approaching her with the most popular pickup techniques and asking her to go on a common date with you, is the thing that other men do, and by doing that, you won't attract her attention. Of course, even though many other factors can affect your success, asking her to go on an adventurous date may significantly raise your chances.
On the other hand, such dates can help you know more about your partner if you already have one. Most of our adventure ideas for couples in one way or another put you in a situation that has never happened in your life. Thus, you leave, or it is better to say, you extend your comfort zone while having positive emotions from spending time together with your partner. Needless to say that this very positively affects your relationships by giving you new emotions, experiences, memories, and topics to discuss.
So, here are the main benefits of adventurous dates:
You strengthen your relationship.
You learn more about your partner.
You make your partner happier by being unpredicted in a positive way.
You raise your chances of success when approaching a girl you like.
You will live a full life together.
What to Consider Before Going on an Adventurous Date
Without a doubt, it is much harder to organize an adventurous date because, as its name says, your date supposes to be an adventure and sometimes, it is very hard to make interesting and relatively easy to do adventure date. Plus, it includes more than just holding hands, chatting, and kissing since, on your adventurous date, both you and your partner will have to be active. Also, many other problems may appear during the organization of your adventurous date. So, if you are planning something that requires a huge amount of additional preparations, you should always start preparing way ahead of the date. Thus, you will have enough time to make sure that everything is ready, and nothing can ruin your time together.
Desires of your date
First of all, you need to think about the person for whom you are going to organize this meeting. Consider his or her interests, and, of course, don't forget about things that he or she doesn't like. By doing this, you should create a list of desired and undesired features of your adventures date. After all, he or she is the one for whom you are going to organize this adventurous date.
The weather
If you and your partner are into outdoor activities, after finding something suitable from our list of adventurous date ideas, make sure that you have checked the weather. If everything is fine, then you are good to go, but if the weather is not that good, then maybe it is better to stay home for this time? Or, at least take a couple of warm jackets with you.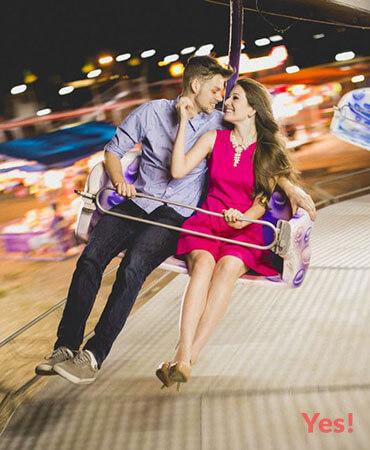 Health
Pay close attention to the health limitations that you or your girlfriend may have. For example, if one of you has heart problems, you definitely should stay away from mountains and extreme activities. This also includes ahead preparing the medicine that your partner should regularly take if you are going to surprise him or her.
Finances
Planning a budget is very important because you definitely don't want to find yourself in the middle of your date without money because it directly affects the safety of your adventures. Also, most of the adventure date ideas are not as expensive as they look. So, get ready to carefully plan your budget to make sure that everything will be great.
Cute Adventurous Date Ideas for Every Taste
So, after all, the time has come for our list of 15 fun adventurous date ideas. We hope that here, you will easily find something suitable for you because we've tried to add ideas that represent different interests and types of activities. Moreover, before searching for interesting adventurous things to do on a date, you must realize that the main idea of the adventure date is not to set world records, it is about pleasantly spending time with your partner.
1. Visit your local amusement park
Going to your local theme or amusement part is one of the easiest ways how you can organize your date. It is perfect if, before going there, you set a couple of challenges. For example, you can promise yourself that you will visit all roller coasters together, or that you will kiss every time you see a clown.
2. Go away from your town at night
As you may know, if you live in a big city, you will never be able to see the night sky in all its beauty. So, why don't you grab your partner, and drive away from the city into wildlands, to stare at the night sky together? You may also take a telescope with you there. It will allow you to look at other planets of our solar system.
3. A sudden adventure
Surprise your partner with a sudden adventure. The only thing that you need to have to go on a sudden adventure is money. The more money you have, the further you can go. One day, wake up early in the morning, make coffee for your partner, and tell them that today you are going to the neighboring town to learn where they serve best pizzas.
4. Create a challenge for your next date
Sudden and pleasant romantic challenges can very positively affect your relationship. To have an interesting challenge, you don't even need to leave your town. For example, you can agree that every time you see another couple, you hug your partner, or you can hide love notes around the city and help your partner find them.
5. A date on a roof
What can be more romantic than a little bit dangerous time on the roof under the night sky? Of course, no matter what roof you will choose, you won't see the full beauty of the night sky from the city, but this is not the point. The point is to spend time together with your partner looking at the night city. Don't forget to take a blanket with you.
6. Go climbing
It is just perfect if you have some brilliant climbing spots near your place. But even if not, you will never regret visiting one of those places together with your partner. Just make sure that you both are physically ready for this adventure, or you may even have a quarrel instead of having a nice time together.
7. Try hitch-hiking
Hitch-hiking is a very interesting way of traveling because you will meet many different people, and they all will have lots of various stories to share. Treat hitch-hiking not as the way of transportation but as a way of learning new things and having a very interesting weekend together with your romantic partner.
8. Try some extreme activities
Extreme activities are indispensable for so-called adrenaline junkies. If you are one of those people, then you will definitely like base jumping, canyon swinging, tree camping, or parascending. Yes, all those extreme sports may be pretty expensive, but you will never forget such an experience, so it is worth it! Usually, those activities sound more dangerous than they are in reality. But your partner may not need to know this, right?
9. Try storm chasing
This one is only for very brave people who enjoy danger and like every aspect of nature. If you have a reliable car and a couple of good cameras, you can try to chase a storm that is going to hit someplace near your residence. Be sure to double-check the weather forecast, or you may find yourself in a very dangerous situation or won't make any interesting pictures.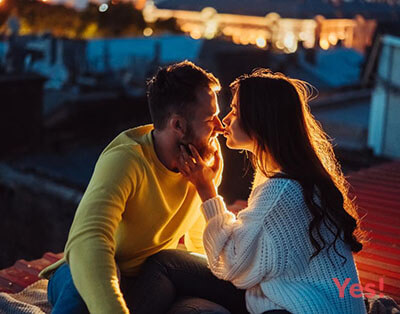 10. A monthly date in the same place
This is one of the calmest date ideas for adventurous couples, but still, no one says that you can't have a date on board of the colorful balloon that flies above your city. No matter what place you choose, every date you should make a set of photos there. So, in the future, you will be able to create a collage that will show you how you have changed.
11. A sudden trip with a slow return
Agree with your partner that on your weekend, you will choose a direction and will try to go as fast as it is only possible during some set time. For example, you can say, "Tomorrow, we are going to find out how far we can get if we go south for 5 hours on a car." After this challenge, google more about your location and find some interesting spots to visit on your way back home.
12. Visit a concert
How long has it been exactly since the last time you visited a concert together? Nowadays, there are many various concerts and festivals that can suit all your needs. Besides, you can find free or relatively cheap concerts if currently, you can't spend a lot of money on such matters. But, I promise, your partner will literary shine after visiting a concert of his or her favorite singer.
13. An unusual picnic
How about a picnic on a sunrise? This is a very interesting way to recharge your energy and give both of you a set of positive emotions for the rest of the day, or maybe even the whole week. You can organize this even before work. You can't even imagine how deeply you will surprise your colleagues with your shunning looks after this.
14. Ad a purpose to your date
For example, it can be a charity for your local dog shelter. You can go on a date with your partner, and during this date, you will try to raise some money for this shelter. At the end of the date, you should pay a visit there, give money to owners, and pet those beautiful creatures for whom you did all this.
15. Visit a haunted house
In every city or town, you can find an interesting haunted house that has its own ghost story. Find the closest one to you and try to find some ghosts by yourself. There, you can pretend that you are a couple who runs investigations on paranormal activities and wants to know more about this place and the story behind it. You can even start questioning locals on this topic.
Remember, no matter what you will choose, all adventurous date night ideas are not about the adventure by itself but are about having a nice time together with your romantic partner. Sometimes, you may even want to completely forget about completing some challenges, because, during your date, you may suddenly want to do something else, and this is utterly fine. Two souls in love can turn almost anything into an interesting adventure! You know that the best adventures usually are those that have never been planned, right? The most important thing in having an adventurous date is to go on it with an open heart and a positive attitude. Thus, you will make sure that everything will be perfect.