20.12.2017
You are quite lucky if you are not in a relationship. You can have as many girls as you want, and you don't have to work hard to impress them, as, how long will it take? A night or two? You don't have to learn anything, as one night stands don't need to be quite impressive, as there are no follow-ups. That style of life is great, except for one thing, it can't continue forever, because we are not getting any younger. Soon, you won't be that handsome and that sexy to catch the attention of the girls. What's left then? Being a millionaire so that they would linger to you because of your money? A lot of men seem to be quite okay with such a variant, and we are not going to judge them for that. But there is one question that you need to ask yourself, whether a relationship like that seems honest to you? Probably, you want to be loved for who you are and not for how much you earn. That's why you would prefer a steady girlfriend. But being in a steady relationship requires you to know how to turn a girl on.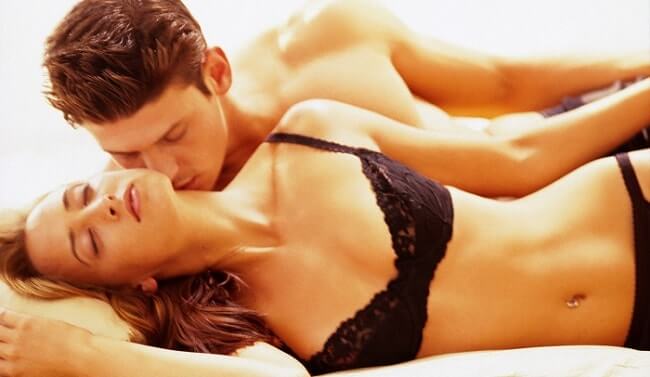 Playboys often think about themselves as of sex gods. If only they've heard the complaints of their steady girlfriends. The number of one night stands doesn't prove that you are good at sex, it only shows that you are great at luring the girls to your bed. On the other hand, steady partners with whom you have sex a few times a week, show that you are not boring in bed. So, if you don't have steady partners and planning to engage in a romantic relationship, you really need to know how to turn your girlfriend on. Even if she doesn't leave you because of routine bedroom activities, sooner or later she will start complaining about it. So, check out our tips on turning your girlfriend on.
1. How to Touch a Girl to Turn Her On
Let's be honest, most likely you touch your one night stand partner and a woman that you love differently. If not, it is great if you are tender with both because if you like grabbing, you are doomed in your romantic relationship. It's okay if you are grabbing each other when it is a one night stand, as both of you feel horny and there is almost no romance between the two of you. But, when it comes to a steady relationship, you need to know how to touch a woman to turn her on. When it is your girlfriend, she would be turned on not by the rude grabbing, but by the light touches. Of course, if you are in some role-game, you can grab her, but if you are just to turn her on, touch her gently.
You also need to know where to touch a girl to turn her on and believe us, we are not talking about what has just popped up in your head. Touch her neck, face or her arm lightly, and that would be enough to turn her on. Of course, in a more erotic atmosphere, you can touch her breast and hips, but you need to start lightly anyway.
2. How to Talk to a Girl to Turn Her On
Most women like when a man is able to turn them on verbally. Of course, every woman requires an individual approach, but most things to say to a girl to turn her on shouldn't contain anything rude or overly ruttish. The best way is to use soft and indirect language to turn her on. "I can't wait to thrust in your vagina!" isn't you regular catch-phrase, and she would appreciate phrases like "I miss holding you in my arms" or "I love touching your body" much more than the above-mentioned porn movie dialogue cut out.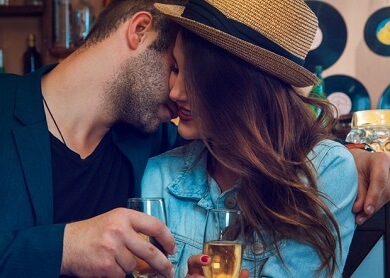 Questions can also be quite suggestive, so you need to know what to ask your girlfriend to turn her on. And, once again, asking how much she is missing your penis is probably not the bad idea. Something more abstract like "Guess what's waiting for you in the bedroom?" would do better. Asking, about your last night can also turn your girlfriend on, as anything that triggers an immediate visualization works as a perfect aphrodisiac.
3. Texts to Turn Her On
The soft and indirect language would work in the written form. So, mind that "I want to **** you in the ...(wherever)" is not one of the hot text messages to turn her on, unless you are in the middle of the sexting battle. Sending dick-pics is also not a variant, as it is your girlfriend and you are not on Tinder anymore. Girls like when men care for them, so your messages should show that you care for them, rather than your own satisfaction. Something like, "Thinking of you makes it hard for me to concentrate on my work" or "I can't forget what we did last night". Still, asking her what is she wearing at the moment works great too.
4. Where to Kiss a Girl to Turn Her On
Kisses are the most important part of turning on the girl. A tender kiss on the lips or a sexy kiss on her neck can easily turn her on. Start from kissing her hands tenderly, then you can slowly move to the neck, and then to lips. Mind when you turn to passionate french kissing, you should keep your eyes closed, as aside from the belief that people who kiss with open eyes are not really in love, you are having quite a creepy look when your eyes are open.
If you follow all the tips mentioned above, you have all the chances that your sex is going to be better. All those phrases and messages, as well as the right kisses, tease her, and if you do it the right way unforgettable sex is guaranteed.
Popular and Uncommon Turn-Ons for Girls
Okay, you know where to kiss her and how to talk to her, but that doesn't mean that you can allow yourself to relax. You should remember that a steady relationship requires a lot of work that doesn't concern only female and male turn-ons. You should expand your list of turn-ons every year unless you have a boring girlfriend who thinks that missionary pose is the only way to have sex and doesn't want you to bring up your experiments. We created our list of the most popular turn-ons for girls and the list of weird turn-ons. Check them out to have a platform to start your never-ending exploration of sexual turn-ons.
Popular Turn-Ons
1. Make Her a Compliment
Though the most simple, still a compliment in one of the biggest turn-ons for girls. Your compliments shouldn't be limited to her beauty. Tell her how smart she is, but it is better to be honest. Some girls say stupid things to check out whether you are an attentive listener or not. So, if she says that the moon and the sun is the same astral body, don't tell her how smart she is. Still, you can turn her on with your reaction, telling her that her theory about the sun is one of the cutest things that you've ever heard in your life.
2. Go to the Gym Together
Working out together brings the couples closer. Working out together allows you to show your girlfriend your physical abilities, which works as a perfect turn-on for her. Besides, did you know that some women experience orgasm while working out? Yep, that's true. So, if you don't want to miss being involved in her orgasm, it is better to work out together. By the way, giving your knowledge on the subject may turn her on as well. But mind that it shouldn't be embarrassing, as being embarrassed is unlikely a synonym to feeling sexy.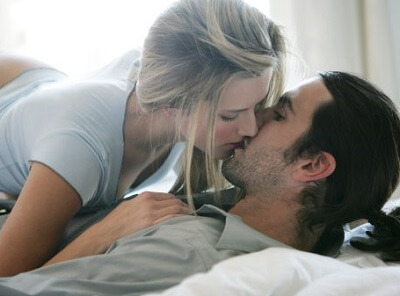 3. Whisper in Her Ear
Whispering is the perfect choice for turning her on. You can tenderly hug her from behind and start whispering in her ear compliments. But don't limit yourself to compliments. You can tell her how important she is for you, how you miss her every day when you are at work. You can also start whispering what you would like to do with her in the bedroom. Whispering your desires in her ear will definitely turn her on. Moreover, if you find the right words to express your desires, you can get her closer to orgasm with your whispers on their own.
Uncommon Turn-Ons
1. Getting Rough
If your sex is always tender, you can change the rules a little bit. Wake up your inner beast and get a bit rougher in having sex. Throw her on a bed, tear down her clothes. Some girls like a bit of slapping. But mind that such change in your behavior may turn her on, as well as scare her. So if you don't want to be accused of domestic violence, it is better to discuss whether she likes the idea or not beforehand, and then make a surprise for her.
2. Neck Biting
Some girls like when a tender kiss on her neck turns into a bite on her neck. No, no, no, the Twilight Saga has nothing to do with that or has it? Regardless of whether your girlfriend is crazed on vampire stories or not, she may get turned on by your biting her neck. But as with the rough sex, you should ask her beforehand. Otherwise, she may think that Stephanie Meyer is your favorite writer or that you are just a weirdo.
3. Sweat
Yep, you've heard that right. Some girls can easily get turned on by the scent of your sweat. So, if your girl asks you to make love to her right after your morning jogging without taking a shower, don't get surprised, as she may be just mad about your sweaty smell. Once again, it is better to talk with her about whether your sweat turns her on or not, instead of trying to have sex with her after working out for hours in a gym to get as sweaty as possible.
Girls get turned on by different things, some like rosy cheeks, others can't resist wanting a man with shaved/hairy armpits. Some girls even get turned on or turned off by the way you drive your car. Although, our tips can give you a general picture of what can turn on your girlfriend, the key to turning her on lies in communication. Being a good listener really helps in learning what can turn on your girlfriend. So, regardless of how many articles about turning on women you read, you will never succeed in understanding your girlfriend's erotic desires without talking to her.